Kieran is the latest of our athletes to secure his student visa to take his career to America in the Fall of 2017.
Having completed his A-Level exams last week, Kieran can now focus on ensuring he is fully prepared for his first season of college soccer in America after securing a soccer scholarship to North Carolina.
We started working with Kieran during his first year of sixth form and it was clear that his good level of academic achievements and strong career to date made him a good candidate for our scholarship programme.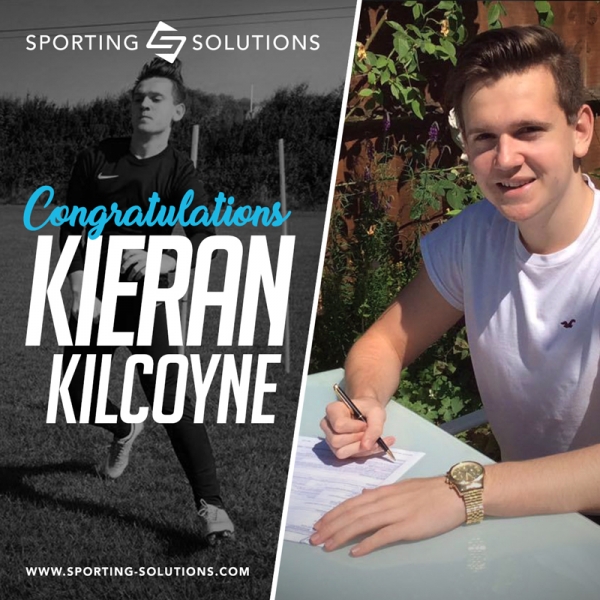 Kieran started the process by attending our annual showcase event in Florida last July where he was joined by athletes from around the world and a large number of U.S. college coaches. Kieran left this event with a good insight into what college life was like in America and a number of scholarship offers to consider. When asked why Kieran wanted to pursue his education and playing career in America, he said:
"With my desired career path being a job within the professional sports scene it seemed that America was a much better fit than the UK. The platform for sport in the US is much greater than here in the UK as it is somewhat ingrained in the American people from birth. A winning mentality is at the forefront of American sport which links to my desire to win and competitive nature. Soccer is also a sport that is growing at a rapid pace in the US and I hope that becoming a student athlete will give me greater access to jobs within soccer in the future."
After careful research and discussion with college coaches, Kieran decided to accept an offer from a university in North Carolina that he felt was the best fit for his academic and sporting ambitions.
Over the last few months we have helped Kieran with admissions and are delighted to see that he now has his student visa in place, ready to report for pre-season in early August. Whilst in the U.S. Kieran will have the opportunity to play full-time soccer whilst also working towards a degree in Sports & Recreation management. Upon securing his student visa, Kieran added:
"Sporting Solutions has helped me to achieve my dream of studying in America and without them, I don't know where I would be today. They have been professional and caring in every aspect of the process and I can't thank them enough. I wouldn't want anyone else other than Harry to have been my representative, he has done the perfect job for me!"
We will check in with Kieran during his first year as a student-athlete in America, so check back for an update soon to see how he is adapting to life in America!
Could you be next?
We are currently recruiting talented young players looking to take their playing career to the U.S. in the Fall of 2018. It is important to start the process early, to ensure you have scholarship options in place upon completing your education in the UK.
If you wish to see what opportunities could be available to you, please enter your details here to check your eligibility for a soccer scholarship.
If you have any questions regarding the soccer scholarship process, please feel free to reach out and contact us.