At Sporting Solutions we are proud to be working with students from all over the world, helping them fulfil their sporting potential whilst also having a U.S. university education.
In the last academic year alone we have been successful in working with students from 32 different countries and with our most recent success, this number looks set to increase.
In early February each year, National Signing Day sees future college players sign their letter of intent, committing them to their selected university. Earlier this month we were celebrating with some of our students, including a soccer player from Albania and golfer from Swaziland!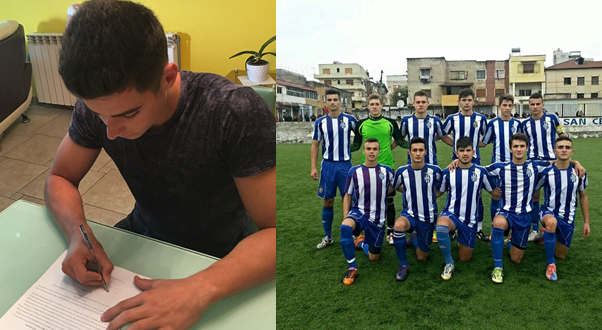 Above: Erdi signing his National Letter of Intent ahead of starting in the Fall of 2016
Erdi, graduated from high school last May and contacted us in the hope hope of a U.S. education. With his strong playing background and good academic results, Erdi was popular with U.S. college coaches. He has now accepted his soccer scholarship and has signed his letter of intent to continue his education and soccer career in Kansas. Erdi is an exciting player who we believe will make a big impact in the college game. Whilst in Kansas he will also be studying for a degree in Economics.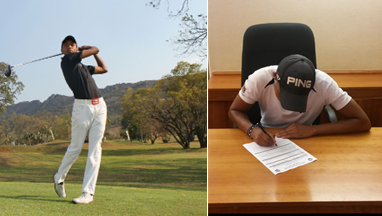 Above: Arvy accepting his scholarship, taking his golf career to the U.S.
Our most recent success story belongs to Arvy, a young golfer from Swaziland.  With limited infrastructure Arvy achieved a great deal of success in his home country and has has represented his country at international tournaments. However for Arvy to take his game and education to the next level, he looked to the U.S. Arvy was delighted to accept a large scholarship which will see him play college golf in the state of Ohio! We look forward to watching Arvy's game develop at the college over the next few seasons.
We wish both Erdi and Arvy all of the best in the States, along with all of our other students who are already out there, doing us proud. We are currently looking for prospects who wish to pursue a college placement in the Fall of 2017. If you feel you have what it takes to play college sport, please enter your details on our online eligibility form and one of the Sporting Solutions team will get back to you.